When Jesus was asked "What is the greatest commandment?", He responded by saying we are to Love God with all of our heart, with all of our soul, with all of our mind, and with all of our strength. He then gave the 2nd greatest commandment which is to Love People above ourselves. And finally, right before Jesus returned to heaven He left us with his final commandment which is to make disciples of all nations. We believe the best way to do this is to Shine Jesus in every aspect of our lives.
lighthouse hoodies are now available!
Represent our church family by ordering our latest Lighthouse Vineyard Church sweatshirts for you and your family. All orders placed will be available to pick-up at the church.
We are a church family who believes in building healthy communities and environments where we can grow and thrive in the love of Jesus. Our events help us accomplish and become the church Jesus wanted.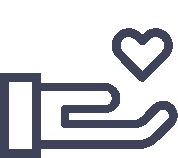 "Each of you should give what you have decided in your heart to give, not reluctantly or under compulsion, for God loves a cheerful giver."
We Give 10% Back To Our Community